Are you desperate to learn all about candlestick chart patterns? Have you found books and courses unsatisfactory as they fail to focus on certain aspects? And, are you looking for an informative, educative, and comprehensive candlestick patterns online course? Then there is no need to look further than Marwood Research – Candlestick Analysis for Professional Traders.
The course author and instructor are Joe Marwood. He is an expert trader and investor who has been active in the market since 2008. Marwood specializes in financial analysis and trading systems. He is a passionate creator of mechanical trading strategies. Marwood has also worked as a futures trader for a trading firm based in London. He is currently working with Amibroker since 2001.
Introduction to the Marwood Research's online candlestick pattern course
Candlestick patterns are one of the best and the most popular method of presenting financial price data. The best aspect of the candlestick charts is – they allow quick and easy visualization of the market and get insight into the price data before initiating a trade. Whether you are trading in stocks, currencies, or commodities, you can easily measure the strength or weakness of trends in the market once you master the art of correctly analyzing the chart patterns. And, Candlestick Analysis for Professional Traders is designed to enable you to master the art of reading and analyzing the candlestick patterns. It is a comprehensive course that covers all about Japanese candlestick chart patterns and how to identify, read, and analyze the most popular candlestick chart patterns. Furthermore, it is the first candlestick patterns online course that sheds light on the historical performance of twenty-five classic candlestick chart patterns.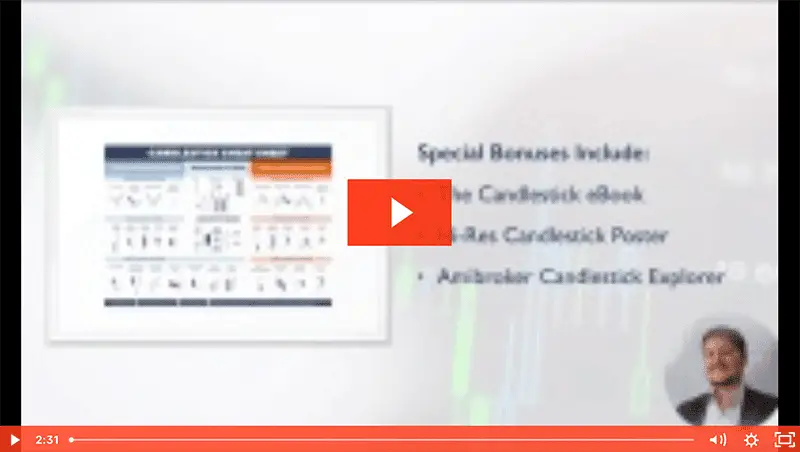 Why is learning and understanding Japanese candlestick chart patterns is important? 
Before delving deep into the Marwood Research's course "Candlestick Analysis for Professional Traders course", it is important to know why do candlestick chart patterns matter and why is it so important to learn and understand them?
Candlestick patterns really matter because they are the key to read price action. When you read price action using candlestick patterns, you actually understand the strength of buyers or sellers in the market. In other words, you learn about market sentiment and crowd psychology. Furthermore, when you correctly identify and analyze them, they highlight activities in the market and eventually give you warning signs to take proactive actions rather than being inactive and passive.
Besides, candlestick chart patterns provide non-lagging price action data and help you make instant decisions with even a single glance at your screen. In a nutshell, anyone who can identify, analyze, and interpret candlestick patterns has the ultimate power of empowering him/her to better understand the actions of all the financial players involved in the market. However, candlestick chart patterns are difficult especially for novices and beginners but not for those who study the online course Candlestick Analysis for Professional Traders.
What is the Candlestick Analysis for Professional Traders course and what you can find in it?
A comprehensive candlestick pattern course
The Candlestick Analysis for Professional Traders course is an all-inclusive and comprehensive candlestick pattern course. It covers all about Japanese candlestick patterns. The course teaches you how to identify the candlestick patterns and how can you incorporate them into your own trading activities. 
Japanese candlestick patterns have been around for centuries now. There are several books and courses available that describe candlestick patterns. However, all these books and courses don't address key aspects like how good these candlestick patterns are. The Marwood Research Candlestick Analysis for Professional Traders course not only addresses such aspects. It will teach you how to spot the most popular patterns, which patterns are the best for you, which patterns demand your attention in your trading and investing, and the ones you should pay less attention to or simply ignore. 
Moreover, the course also describes the historical performance of the twenty-five classic patterns. You will also learn about those candlestick patterns that aren't profitable at all. The course also pinpoints one of the best candlestick patterns – the one that is significantly better than any other candlestick pattern. The plus point of the course is that it is for anyone who is interested in trading and investing in markets including stocks, forex, and futures. 
It focuses on backtesting
Do you want to learn about back-testing and a trading strategy fully based on Japanese candlestick chart patterns? Then this course is especially for you. Indeed, the course teaches you some back-testing principles and how to design a trading strategy based on price action and charts. The course also goes on to discuss a trading strategy that is completely based on Japanese candlestick patterns. 
You can find the following key learning aspects in the Marwood Research's candlestick pattern course. 
The basics of Japanese candlesticks, candlestick chart basics, the history of Japanese candlesticks, and how to use them in your trading and investing for making informed, improved, and insightful decisions. 
The detailed description of the profit potentials and opportunities arising from combining candlestick chart patterns with other key technical indicators. 
Principles of back-testing and designing a trading strategy based on price action and chart patterns. 
The best candlestick patterns, the worst candlestick patterns, and information about the profitability of each popular chart pattern. 
A thorough explanation of a trading strategy based solely on Japanese candlestick chart patterns. 
Scanning different candlestick patterns by using the platform presented by the Amibroker analysis program. 
The Candlestick Analysis for Professional Traders candlestick pattern course curriculum
You must be curious by now about the curriculum of this remarkable course. There is no need to be worried because I am also going to jot down the list of the curriculum now. For instance, the list is going to highlight what you will learn throughout the course.
Introduction
Course Structure
Legal Disclaimer
Candlesticks Basics

Japanese Candlestick Patterns: The Basics

Japanese Candlestick Building Blocks

A History Of Japanese Candlesticks
Test Procedure
Testing The Candlesticks
Observations
What Have We Learnt?
Which Candlestick Pattern Is The Best Of All?
Big table Of Results
Confirmations And Combinations
Improving Candlesticks With Volume: Test Results
How to improve Candlesticks With The RSI Indicator: Test Results
Improving Candlesticks With Moving Averages: Test Results
A Complete Trading System
What are the pros and cons of this candlestick pattern course?
The course is a complete package for everyone interesting in learning all about Japanese candlestick chart patterns. The advantages of the course include:
Firstly, the course is designed and instructed by Joe Marwood who is a professional having years of experience in the market. He systematically presents all the aspects of candlestick patterns to make it easy for you. 
The course is full of information and knowledge that not only gives you a sound grip of Japanese candlestick chart patterns but also gives you practical examples and clear evidence to support claims.
The course allows you to learn how to combine candlestick patterns with other key indicators to optimize your trading strategies and maximize your gain.
You can also learn to build a complete trading strategy based totally on candlestick patterns. So, you can devise a strategy of your own to take full advantage of the candlestick charts. 
You can also make your trading effortless and increase efficiency by focusing only on key candlestick patterns and ignore all others that do not work.
On the other hand, the rare disadvantages of the course include:
The course does not define key financial terms such as stock, future, long/short, and so on. So, you have to learn about them before starting the course.
The course also requires you to have a short trading experience for better learning and understanding. 
The wrap-up
The Marwood Research – Candlestick Analysis for Professional Traders course provides valuable information about candlestick chart patterns. Its in-depth analysis of candlestick patterns is really praiseworthy. This course is so comprehensive that it totally transforms your comprehension of the candlestick charts and you never look at the chart patterns the same ever again. So, the course is the best for anyone interested in learning and employing Japanese candlestick chart patterns in trading and investing. However, it is important to learn about all key financial terms and a short trading experience for better comprehension.
Buy the course now and save 20% with the code SAVE20!